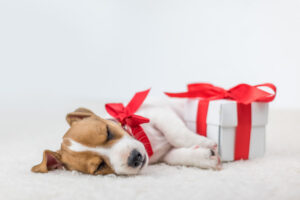 As we approach the holiday season, many of us are beginning to brainstorm gift ideas. Every November, there's a notable uptick in individuals embarking on the puppy adoption or buying journey, aiming to surprise their loved ones with a furry friend come December.
The vision of a puppy with a red bow around its neck leaping into the delighted arms of its new owner is undoubtedly heartwarming, but there's much more to consider than just the initial joy of this seasonal gift.
No matter how well-intentioned, giving a dog as a present can often lead to unintended consequences. In this blog, we'll explain some of the reasons why dogs don't make good gifts and offer you some ideas for the dog lover in your life.
Puppies and Dogs Require Long-Term Commitment
Many people don't consider the full timeline of care and commitment a dog needs. Dogs require ongoing care – outside of regular feeding and walking, you have to factor in training, playing, grooming, and annual vet check-ups – not to mention love and attention.
Often, this care can fall on one primary person – it's a tale as old as time: the earnest promises of kids and teens pleading, "I'll take care of it, I promise!". They swear up and down that they'll walk the dog, rain or shine. Yet, like clockwork, the parents often find themselves reaching for the leash and braving the early morning cold.
While puppies tug at our heartstrings with their floppy ears and tiny paws, remember, those puppies grow into adult dogs. Their needs change and their energy often increases – that cute, little furball will soon need larger spaces, more food, and possibly exhibit behaviors that the recipient isn't ready for.
Whether it's for a holiday or a birthday, gifting a dog means gifting a responsibility. A dog can quickly become an overwhelming and expensive burden for someone who isn't prepared for this responsibility.
Understanding Dog Behavioral Challenges
Many dogs can develop habits that, if not addressed early and properly, can be hard to rectify. Some might chew on furniture, bark excessively, fear children, or show signs of aggression. These issues require time, money, empathy, and often professional intervention. In our years of experience, we've encountered many dog owners who were ill-prepared to manage these challenges.
The holiday season is already stressful; introducing a new pet can amplify this stress for both the family and the dog.
Alternative Gifts for Dog Lovers
Instead of surprising someone with a dog they might not be ready for, consider these thoughtful alternatives:
Sponsoring a dog at a local shelter
Volunteer at a local shelter or ASPCA
Arrange a doggy playdate or experience
The above suggestions can help prepare those involved for the responsibilities of dog ownership, provide interaction with different types of dogs, and can even turn into a future job.
For those truly passionate about dogs, we suggest Fetch and More's virtual "Become a Trainer" program! Becoming a dog trainer is incredibly rewarding, and it can help prepare you for getting your own pup!
Responsible Dog Ownership and A More Fulfilling Dog Experience
Our furry friends deserve homes that are ready, willing, and able to provide for their every need. Impulse decisions during the holidays often don't account for the long-term commitment that a pet requires.
When you're ready for long-term dog commitment, reach out to us at Fetch and More. With our years of expertise and transition to an all-virtual training model, we're here to help every dog and owner find harmony. Contact us today to learn more!