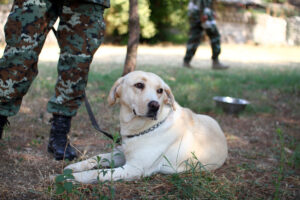 September was suicide awareness month, so it is important to continue talking about suicide and our troops. Veterans have a high rate of suicide. In 2021, it was found that since 9/11, 30,177 veterans have died by suicide. To put that into perspective, in the same amount of time, 7,057 service members died in combat, meaning that the military suicide rate is over four times higher than the deaths that occurred in combat (NPR).
1 in 6 veterans experiences PTSD- and psychiatric service dogs have been shown to help alleviate PTSD symptoms. However, as of 2022, the VA does not currently recognize service dogs for reasons other than permanent physical impairments. This means the VA will provide veterinary care for service dogs who help veterans with permanent physical impairments, but not for psychiatric service dogs to help veterans with PTSD. This can be discouraging, but we here at Fetch and More urge you to not be discouraged. We will advocate for you should any place deny you entry, services, or housing, with your psychiatric service dog. We ensure your ADA Rights are always recognized, and never comprised.
In an article by ABC News, veterans opened up about their mental health. Many of them spoke openly about their struggles, and their hesitancy surrounding speaking up about their mental health- due to stigma and the fear that it may impact their job.
It's clear that the military sees this issue and is eager to remedy it- several plans have been in place to help those struggling. However, some of their plans take time, with many veterans needing immediate help.
With all of the data on psychiatric service dogs helping PTSD and mental health, we hope the VA will soon begin to accommodate their veterans with psychiatric service dogs.
As winter approaches, days get shorter, and more people spend time indoors. This can be incredibly hard on those who struggle with their mental health. One benefit of psychiatric service dogs, is that they are always with you.
Somedays, it's hard to talk or even to begin explaining what is happening. Your dog can not only listen (hey, sometimes it's good just to get it all out!), but dogs can actually sense our stress levels– meaning that your psychiatric service dog will know how you're feeling- and get to work on comforting you.
We recognize that PTSD isn't just about "feeling bad"- it is so much more complex. Psychiatric Service dogs can:
Help identify potential triggers.
Help navigate stressful situations.
Provide comfort and help you calm down.
Remind you to take medication (if applicable).
Wake you up from nightmares.
Help with anything specific to your PTSD or mental health.
Your psychiatric service/emotional support dog will serve you their whole life, which is why it's important to ensure you have a dog you have a strong bond with. At Fetch and More, we know how important that bond is. Our emotional support training services for dogs are highly detailed; with them, you receive a lifetime guarantee and unlimited support for the dog's life. We are well prepared to provide our dog training services for anxiety support to your furry friend.
With over 20 years of experience, we are well-versed and well-prepared. We travel directly to you, so to begin your journey, visit us online or call us at 201-914-8268.
If you or a loved one is struggling with mental health, below are some resources:
Veterans crisis line: call 800-273-8255 or text 838255
Suicide Hotline:  call or text 988